Mutual funds have now become the go to saving and investment option across India.
This can be attributed several factors including rising awareness due to popular 'Mutual Funds Sahi Hai' campaign, increased internet penetration, rise of equity markets, and so on.
Having understood the benefits of investing regularly in mutual funds, people are exploring and looking out for best platforms and advisers to invest in mutual funds.
Groww is a platform which helps you invest in more than 3000 mutual funds from a single place. You can not only just invest in mutual funds but track your portfolio online using its platform.
In this post, let us explore Groww Mutual Fund Investing App through some of the common questions you may have in your mind.
Groww App Review

How Does Groww.in Make Money?
The first and foremost question which may come to anyone's mind is- how does Groww make money?
A business cannot survive without making profits right? It is important to note that Groww does not charge or get commission directly from the mutual fund as direct funds (& not regular funds where commissions are offered to the advisers or agents) are available on the platform.
Groww makes money by offering advisory services & add-on premium features to its users.
How is Groww Compared to Kuvera?
Groww & Kuvera- both platforms offer almost similar features and both are free to use platforms allowing investments in direct plans of mutual funds.
On a personal level, I find the user interface of Kuvera more intuitive as compared to that of Groww.
Having said that, this is a personal opinion and other individuals may find the UI of Groww better than Kuvera.
I would recommend you to sign up on both the platforms, explore them and then select any platform based on your liking.
What is the Commission Structure of Groww and Charges
As mentioned earlier, Groww provides direct mutual funds which do not offer any commission.
It does not charge any fees or commission from its users as well for availing their service or using the platform.
Groww may however charge for add on services like portfolio/investment advisory, premium features on the platform, etc.
Is Groww Sebi Registered?
Yes, Groww is SEBI registered adviser in the name of Finvantage Investment Adviser Private Limited based out of Bangalore.
Their registration number is INA20008981. You can check out their Certification of Registration with SEBI & Certificate of Registration with AMFI & BSE.
Is Groww App Safe?
Groww app is fully safe and secure. So, you don't need to worry for online fraud. Groww has mentioned on their website that the user's data is 100% safe and they employ bank grade security features on their platform.
It uses BSE Star MF platform for transactions. All your investments are directly with the respective mutual fund AMC.
So in case of any unfortunate reasons, if Groww shuts down, you can still continue your investments, redeem or maintain a relationship directly with the AMC. Groww is a just a platform.
Groww Customer Care Number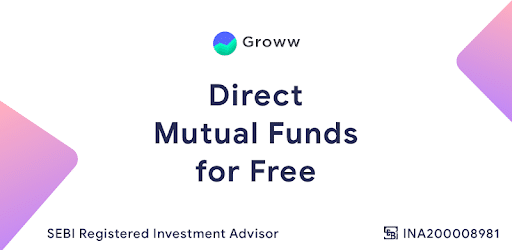 You can get in touch with the Groww customer care team via the Contact Us page or directly email them on [email protected]
There is also a live chat option available on the platform using which you can have a live chat with their representative online.
You can reach them on 91088-00604 which is the number mentioned on their Facebook page (and not on the official website). They are also quite responsive on social networks like Facebook & Twitter.
The support team of Groww is quite helpful and will answer all your queries efficiently.
With Groww You Can:
Below are some of the main things which you can do with the Groww app:
Invest in any Fund (SIP and One-Time): You can invest in any mutual fund of your choice from any AMC.
You can do lump sum (one time) investment in any fund or setup Systematic Investment Plan (SIP) in any fund wherein the fixed pre-decided amount would be directly debited from your liked bank account every month and invested in the selected mutual fund.
Add More Money in Existing Mutual Funds: If you are already investing in mutual funds, you can make your further investments in the same folios through the Groww app.
Redeem from any Fund with the Click of a Button: Want to redeem your accumulated units or money in mutual funds? You can do so from Groww app itself at click of the button. The proceeds will be transferred to the bank account linked with the respective AMC.
Cancel/Stop an Ongoing SIP: Due to some financial or personal difficulties, you might want to cancel or stop your ongoing SIP's in any mutual fund scheme. You can do so via their platform.
Switch from Regular Funds to Direct Mutual Funds: If you had earlier invested in Regular mutual funds knowingly or unknowingly & would like to switch to regular funds, you can do so via their platform.
You can find detailed steps for the same here. Do note that switching refers to selling units in your existing schemes and buying another scheme so it may be subject to taxes & exit loads, wherever applicable.
Conclusion
Groww app is a god sent solution for mutual fund investors making their life easy.
You can invest in mutual fund of any AMC from a single place. It also helps you track your portfolio and your goals. The best part is that there is absolutely no charge to use this service and the investments go in direct mutual funds- where no commissions are paid to agents/advisors which helps you save money and get better returns in the long run.
I will recommend every mutual fund investor to try and use this app- it will make your mutual fund investment hassle free!
If you have already used the Groww app, do let us know your experience using the comment box below.